Obama represents the worst of rogue leadership. He's a war criminal multiple times over. He threatens world peace.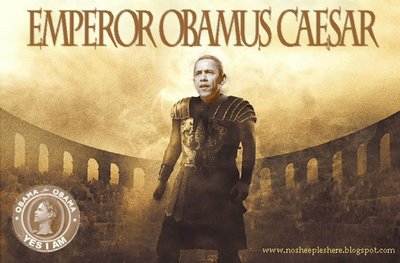 On Wednesday, he arrived in Tokyo. It's the first leg of his Asian tour. South Korea, Malaysia and the Philippines follow.
He noticeably snubbed China. He reassured Tokyo saying relations with Beijing won't come "at the expense of Japan or any other ally."
At issue is advancing regional hegemony. It's targeting Russia and China. Obama heightened US/Beijing tensions, saying:
"The policy of the United States is clear. The Senkaku islands are administered by Japan and therefore fall within the scope of Article 5 of the US-Japan Treaty of Mutual Cooperation and Security."
"(W)e oppose any unilateral attempts to undermine Japan's administration of these islands."
Beijing's Foreign Ministry spokesman Qin Gang responded saying:
Washington "should respect the facts, in a responsible manner abide by its commitment not to choose sides over a territorial sovereignty issue, be cautious on words and deeds and earnestly play a constructive role for peace and stability in the region."
Much more than a territorial dispute is at stake. Regional tensions could erupt into something much more serious.
Washington wants Russia and China contained. It wants them isolated, weakened and co-opted.
It wants them transformed into US-controlled vassal states. Great conflicts begin this way.
Obama warned Russia. Sanctions are "teed up and ready to go," he said.
"Assuming they do not follow through, we will follow through with what we said, which is that there will be additional consequences."
Expect them "in days, not weeks," he added. He lied saying Moscow isn't "abiding by the spirit or letter" of Geneva four-party agreement terms.
"So far the evidence doesn't make me hopeful," he said. "We have been preparing for the prospect that we have to engage in further sanctions."
They require "technical work" and coordination with other countries. "There are some things the United States can do alone but ultimately it's going to have to be a joint effort, a collective effort."
"The fact I haven't announced them yet, doesn't mean they aren't" ready to be implemented.
On Wednesday, State Department spokeswoman Jen Psaki lied claiming menacing Russian hoards "mass(ed) on the border of a country they've just illegally occupied…"
"Were talking about illegally occupied buildings in eastern Ukraine where the legitimate government is taking steps to ensure there's law and order, versus tens of thousands of troops in a threatening position on the border of the country," she said.
Russia's comments don't suggest it plans implementing four-party Geneva agreement terms, she added.
New sanctions are expected to target high-level Kremlin officials as well as entities they oversea. Others on key Russian industries may follow depending on events as they unfold.
Putin responded to Obama's threats. He did so from a St. Petersburg media forum. Sanctions "are absolutely not critical in nature, but you can't of course say they are a good thing," he said.
Russia isn't planning to punish Visa and Mastercard, he added. "We are not envisioning any steps to punish the careless partners, but they have undermined their credibility, meaning they will definitely lose the market," he said.
Czech Prime Minister Bohuslav Sobotka commented on Russian sanctions, saying:
"The Czech government holds a skeptical position on the introduction of 'broad-based' sanctions because it would also hurt economic growth in Europe."
Imposing them cuts both ways. Other EU countries expressed concerns. Washington bullies them to go along.
Eastern Ukrainian events aren't encouraging. Kiev's military attacked Donetsk region self-defense forces. A Donetsk People's Republic spokesman said:
"An all-arms operation has been launched in Slovyansk. This means just one thing – a civil war." Acting Mayor Vyacheslav Ponomarev warned residents to stay home.
He said local police and self-defense forces are ready to counter military attacks. "There will undoubtedly be resistance. We are restraining" Kiev forces.
"All roads are blocked. We are prepared for them if they break through."
"The convoy of armored vehicles has yielded ground. The people's police have got reinforcements from the city of Krasny Liman."
"Volunteers – even unarmed – continue to arrive at the strategic post." Reports suggested Ukrainian forces pulled back. They massed from a more distant point.
Police and self-defense forces swept a nearby forest area. They looked for Right Sector thugs and other hostile elements.
In response to crisis conditions, Russia ordered new military exercises. They're planned for regions bordering Ukraine.
"We are compelled to react to (the) situation," said Defense Minister Sergei Shoigu.
"From today, military exercises have started in regions bordering Ukraine involving battalions of tactical forces of the southern and western military districts."
"The order to use force against civilians has already been given, and if this military machine is not stopped, the amount of casualties will only grow."
"War games by NATO in Poland and the Baltic states are not helping the normalization of the situation. We are forced to react to the situation."
Drills involve ground and air exercises, he added. They in response to 11,000 Ukrainian soldiers, 160 tanks, 230 armored vehicles, and at least 150 artillery pieces, he said.
They're targeting their own people lawlessly. "National guard units and Right Sector extremists are fighting against the peaceful population, as well as a volunteer Donbass 'anti-terrorist' unit."
"Also security and internal forces transferred to Lugansk and Donetsk from other areas of the country are suppressing dissent."
Self-defense forces are way outnumbered and outgunned, Shoigu explained.
Ukrainian sabotage units were deployed near Russia's border, he added. Things seem headed from bad to worse.
Lives of Russian nationals are threatened. Lavrov said they won't be left unprotected. Targeting them is attacking the Russian Federation, he said.
US paratroops arrived in Poland. They're the first ones in Eastern Europe since Ukrainian crisis conditions erupted.
They're Vicenza-based 173rd Infantry Brigade Combat Team members. They arrived a day after the Pentagon announced plans to deploy 600 US forces to Poland, Latvia, Estonia and Lithuania.
Pentagon spokesman Rear Admiral John Kirby said they're part of a series of rotational deployments. They'll continue throughout 2014. Perhaps into 2015.
"Russia's aggression in Ukraine has renewed our resolve to strengthening NATO's defense plans and capabilities, and to demonstrate our continued commitment to collective defense in reinforcing our NATO allies in central and eastern Europe," he said.
Deploying them isn't symbolic, he added. "Any time you put troops on the ground and doing exercises, in this case for a month at a time, it's more than symbology."
"The kind of work that we're going to be doing is real infantry training. And that's not insignificant."
Former Polish foreign minister Witold Waszczykowski called it "a first step to change our security status."
"We hope this is one of the many steps to enhance the security of Poland and central Europe," he added.
"Fifteen years ago, when we joined NATO, it was a second-class, class B membership. It was a completely different geopolitical situation."
"We expected Russia would, many of us hoped would, follow along with democratization. We know now we were living under an illusion."
Irresponsible Russia bashing continues. Big Lies repeat with disturbing regularity. Media scoundrels regurgitate them.
Days earlier, The New York Times lied about so-called "mysteriously well-armed, professional" Eastern Ukrainian masked gunmen.
It cited fake administration photos. They bogusly identified them as "Russian military and intelligence forces."
The Times was caught red-handed lying. It unsuccessfully tried buying the story. It did so well into a follow-up report.
Downplaying Big Lies doesn't mitigate them. It wasn't the first time its bogus reports were exposed. For sure it won't be the last.
Daily Times Russia bashing continues. Shameless misinformation substitutes for legitimate journalism. Readers are consistently lied to. So-called fit to read news is garbage.
On April 23, The Times headlined "Eastern Europe Frets About NATO's Ability to Curb Russia."
So-called Russian threats don't exist. Claiming otherwise turns truth on its head. So is saying "Moscow's muscular intervention in neighboring Ukraine" threatens its neighbors.
Don't expect Times correspondents, commentators or editors to explain. Wall Street Journal editors bash Russia relentlessly.
On April 24, they headlined "Putin and Navalny." More on what they said below.
Putin challenges Obama's imperial adventurism responsibly. Navalny is a convicted embezzler.
He masquerades as an anti-corruption crusader. He's a Western darling. He's a convenient stooge.
He's no democrat. He's ideologically over-the-top. He gets generous State Department funding.
Don't expect Journal editors to explain. They lied claiming he was convicted on "trumped-up corruption charges." He was caught red-handed.
He's under house arrest. He awaits trial on other grand theft charges. He "warned for years that an authoritarian Putin would eventually become a threat to the West, but they were dismissed by Westerners who said it was none of our business," said Journal editors.
"Now we can see who was right, as Mr. Putin carves up Ukraine, with more of Europe potentially on the menu."
Truth is polar opposite duplicitous Journal editor claims.
Days earlier, they headlined "Putin's Westward March: Revisionist powers are rising as Obama and Europe fail to respond."
Putin "refuse(s) to withdraw his troops massed at the border. (He's) ready to invade if he pleases…"
"All of this continues the pattern of Mr. Obama and Europe underestimating the Russian strongman."
Fact: Russian hoards aren't "ready to invade."
Fact: Russian democracy under Putin shames America's sham version.
Fact: Putin respects rule of law principles.
Fact: Obama consistently violates them.
Fact: Putin goes all-out for peaceful conflict resolution.
Fact: Obama wages one war of aggression after another.
Journal editors reported other Big Lies. "Iran is attempting to (develop) nuclear weapons," they claimed. Clear evidence shows otherwise.
China threatens its regional neighbors. It's "pressing its territorial claims in the East and South China seas."
It's "pressing" what it considers its legitimate rights.
"Russia is marching west with a goal of reclaiming the influence and perhaps the territory it lost with the collapse of the Soviet Union."
No evidence whatever suggests a revanchist Moscow agenda. Journal editors lied claiming Putin "march(es) on."
He's the one world leader above all others challenging Washington's imperial rampaging responsibly. Sino/Russian cooperation has the best chance to contain it.