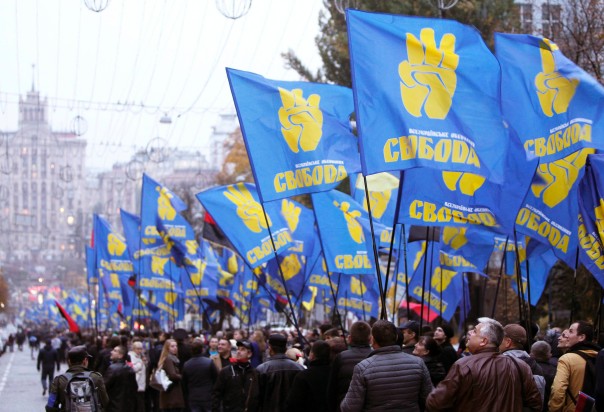 (left. The Neo Nazi Svoboda party replaced their stylized swastika symbol
with a three finger Masonic hand sign resembling sign of Baphomet. Remarkably this
is the same sign as the "We Day" youth movement the Illuminati is selling to children in the West.
See WeDay symbol in text below.)

Illuminati Jews have no trouble collaborating with Neo Nazis
who celebrate the Jewish holocaust. Illuminati Jewish media
have no trouble suppressing the fact that that Neo Nazis
now run the Ukrainian government.

"The
startling fact not revealed [in the Zionist Western media] is that Svoboda has seven members within the
government's 21-member cabinet, so they compose one-third of the
cabinet – all in the most key and powerful positions. "

Svoboda was founded in 1991 as the Social National Party of Ukraine – its name unmistakably being an intentional reference to Adolph Hitler's National Socialist party and it used the Nazi Wolfsangel logo which closely resembles a swastika.
In 2004, with the arrival of Oleh Tyahnybok as leader, the party changed its name to Svoboda ["Freedom"] to somewhat moderate its image while nevertheless retaining its neo-Nazi core. Also to soften its image it changed its Nazi logo to a stylized three-finger salute.
Despite all this, Oleh Tyahnybok remains totally unrepentant. In 2004, he urged Ukrainians to fight against the "Muscovite-Jewish mafia" and lauded the World War II Organization of Ukrainian Nationalists for having fought "Muscovites, Germans, Jews and other scum who wanted to take away our Ukrainian state."
Tyahnybok's deputy, Yuri Mikhalchishin, a Svoboda ideologist, has founded a think tank called the Joseph Goebbels Political Research Centre. He has also translated and published articles of Hitler regime "classics" and has named the Holocaust as a "bright period" in European history.
It is worthy of note that what separates Germany from the Neo Nazi Nationalists in Ukraine is that Germany has taken responsibility for the atrocities they committed.
Contrast this to Lviv, Ukraine, where surviving members of the WW2 Galician SS, willing participants in genocide, still parade on holidays, proudly displaying medals given them by the German Third Reich. In July of 2013 the Svoboda party organized a rally to mark the 70th anniversary of the founding of the 14thWaffen SS Division. And on January 1, 2014, to commemorate their founder's 105th birthday, about 15,000 Svoboda supporters marched through Kyiv, some wearing Nazi SS Waffen army uniforms.
Although many in the media dismiss the Right Sector as insignificant, this body was formed in 2013 as an umbrella organization that included several paramilitary groups, including the Ukrainian National Assembly-Ukrainian National Self Defense (UNA-UNSO) whose members dress in uniforms modelled on Hitler's Waffen SS and have been fighting Russia for years, including in Chechnya.
As of March 22, 2014, all these individual groups have coalesced into the Right Sector and have declared themselves to be an official political party, with Dmytro Yarosh as their presidential candidate in the coming election.
In trying to downplay the significance and role of Svoboda and the Right Sector, the media usually point out that Svoboda has only 8 percent of the seats in the Rada and that the Right Sector doesn't have any elected members, thus making it appear that these parties are of little consequence.
The startling fact not revealed is that Svoboda has seven members within the government's 21-member cabinet, so they compose one-third of the cabinet – all in the most key and powerful positions. Moreover, the Right Sector has a role in government as well; its leader Dmytro Yarosh is in charge of the police as the Deputy Secretary to the Minister of National Security.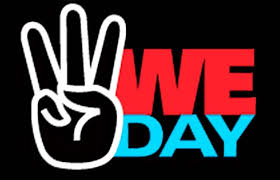 (Ukrainian Nazis and We Day youth movement have same symbol. Coincidence?)
As such, these two neo-Nazi parties have been entrusted with key positions which grant them de facto control over the Armed Forces, Police and National Security. Certainly this information is of the utmost importance – but it is practically never mentioned in the media. Why is this? Essentially, reporting of this type puts forth a very favourable propaganda image of the provisional government. In reality, in putting forth propaganda, what is not said is often every bit as important as what is said. At the very least this is damaging misinformation.
Because the issue of the role of Svoboda in Ukraine's government is so fundamentally important, let's take a look at the cabinet membership.
Oleksandr Sych– Deputy Prime Minister, a Svoboda parliamentarian, the party's chief ideologist, and a virulent anti-abortion activist

Ihor Tenyukh – Minister of Defence, member of Svoboda's political council, and formerly commander of Ukraine's  navy but was dismissed from his post when he tried to help Georgia following its military attack on South Ossetia which Russia quickly rebuffed.
Andriy Parubiy– Secretary of the National Security and National Defense Committee (RNBOU), co-founder of the Social-National Party of Ukraine (Svoboda). This is a key position which oversees the Ministry of Defense, the Armed Forces, Law Enforcement, National Security and Intelligence. The RNBOU is central decision-making body. While it is formally headed by the president, it is run by the Secretariat with a staff of 180 people including defense, intelligence and national security experts. Parubiy was the head "kommandant" of the MaidanRight Sector forces and directed the masked armed men who battled the police.
Oleh Makhnitsky – Prosecutor-general, Svoboda member of parliament. With this appointment Svoboda will control the judicial process.
Ihor Shvaika – Minister of Agriculture, an agro-oligarch and a member of Svoboda. As one of the richest men in the country, his massive investments in agriculture would seem to indicate a slight conflict of interest.
Andriy Moknyk – Minister of Ecology, Deputy Chairman of the Svoboda party and a member of their Political Council, and has been Svoboda's envoy to other European fascist parties.
Serhiy Kvit -Minister of Education, a leading member of Svoboda, noted for his efforts to glorify those who inspiredthe Bandera fascists in World War II.
Dmytro Yarosh – Deputy head of the National Security Council, to be in charge of the police. Yarosh is the founder-leader of the paramilitary "Right Sector," and together with Parubiy they directed the demonstrations at Maiden.Years back, Yorash fought alongside Chechen Islamists, and proudly claims that he personally killed a large number of Russian soldiers.
So although Svoboda has only eight percent of the members in the Ukrainian parliament, they, along with the Right Sector, compose more than a third of the government's cabinet, including some of the key positions. Hence they have a totally disproportionate share of power, and to compound the problem, Svoboda have no elected members from the entire southeastern part of Ukraine, which has more than half of Ukraine's population…
It is important to note that some of the interim government's top ministers were also ministers in previous governments and were participants in policies that created the country's current economic basket case. During all these years they had failed to curb rampant corruption or tackle economic inefficiency.
The EU has provided Ukraine with $19.1 billion in grants and loans since 1991, and together with IMF and other aid it pushes the total well over $30 billion.
And despite Ukraine's current antagonistic rhetoric, the country has received massive aid from Russia in the form of discounted natural gas–a subsidy totaling $200 billion to $300 billion since 1991. So where has all this money gone?
"Into the pockets of an incredibly corrupt political elite and oligarchs," says Emily Holland, a specialist on energy policy at the European Council on Foreign Relations in Berlin.
And with all the brouhaha about corruption by the protest movement, the new fascist-tainted regime has appointed some of the worst oligarchs to key regional government posts in eastern Ukraine. So what are the realistic prospects for this essentially failed state?