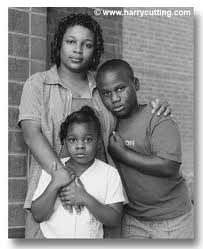 How I Take My Mind Off Myself
"These are lives that have been shattered by the ills and negligence
of our culture. When I'm able to help others, fear for myself or
self pity vanishes."

by Jerry Chapin
(henrymakow.com)
Last week I did one outreach case for my church: A black grandmother
that just moved here from a mess in Memphis.
She is caring for
her two granddaughters for a son who is in prison back in Mississippi, and
her other son she brought here is already in jail for possession. She needed two months rent which more than we're usually called on
to give, though we usually do it if we assess that they won't just
get evicted later.
This woman's situation was shattered but I
noticed her granddaughters were well behaved and sat still when she
told them to.

When we interview a client, then we discuss with the apt. manager.
Another black woman, she clearly wanted us to help this woman, and
said she'd help her find some kind of work. Many of these cases get
disability or child support.
She has disability and had been
sitting with invalids and baby sitting. Obviously there was trouble
with the sons selling drugs that blew up in Memphis.
She did
well to end up here. Those apartments are crummy but the people
there look out for each other and it's in a safe area.
Anyway, I couldn't promise our pledge in this case without a vote so
I told the old woman and manager I'd
let them know Friday I told them we would probably pledge 1/3rd.
At our meeting Thursday night, they approved a pledge of half without
hesitation.

I called the apt. manager Friday and told her we'd pay half up front
and someone would bring her a month bus pass.
The manager herself
thanked me as if I'd save her from eviction. She was so
happy not to have to throw the woman out on the street. She said,
"thank you for helping our people. God bless you".
I don't
know if she meant black people or all the downtrodden. The last client we helped there was a white grandmother with a 15-year old boy and 20 year old unwed mother with a 2-year old child.

These are lives that have been shattered by the ills and negligence
of our culture. When I'm able to help others, fear for myself or
self pity vanishes.

Three years ago when I believed I was washed up, I felt such terrible
regret that I'd never done things I can do now. There's no ego in
it at all. I'm grateful to get to do God's will. Practicing the Golden Rule for real is
really all we can do to save humanity .